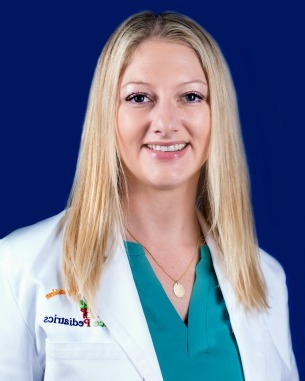 Dr. Klein is now accepting new patients at the Heritage Trace location.
Please logon to our Patient Portal (existing patients).
New patients can call the office at 817-741-5437 to schedule an appointment.
About Dr. Katherine Klein
Dr. Klein adds her feminine touch to our Heritage Trace office with all her pink- loving, glitter and glitz. With Dr. Gronberg's love of socks and Dr. Klein's love of shoes, it is the perfect match! Dr. Klein was born and raised in North Dakota. Dr. Klein came to Texas to visit a close friend and realized the opportunities Texas has to offer, not to mention the great weather. She moved to the DFW area in January 2015 and was working at an Urgent Care Clinic in Mansfield until she was able to begin her position with Alliance Pediatrics®.
Dr. Klein has known she wanted to be a Pediatrician since she was in Kindergarten. Her love for children shines through more than her love for glitter and glam! Dr. Klein had to travel all the way to Texas to find her prince. His name is Mark and they got married in June of 2016. They had a beautiful little baby boy named Kingston Mason in March of 2017.  She loves being a mommy to this smiley little boy! Although Dr. Klein is a glitz and glam kind of girl, she is also a down to earth kind of person. Dr. Klein loves old school Monopoly, Dr. Pepper, her kitten "Lulu" and most of all her Disney Princess Movies.