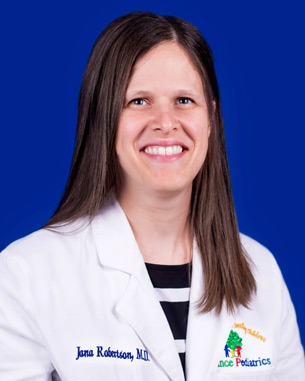 Dr. Robertson is now accepting new patients at the Woodland Springs location.
Schedule a new patient (or existing) appointment by calling

(817) 741-5437

Existing patients can schedule an appointment on our Patient Portal
About Dr. Jana R. Robertson
Dr. Jana R. Robertson is originally from Beeville, TX, having graduated high school in Port Lavaca, TX. She completed her undergraduate education and medical education at Texas A&M and Texas Tech respectively.
Dr. Robertson loves pediatrics and has a passion for caring for children. She knew she wanted to be a doctor at the age of 4. During her first year of Medical School, they asked the students to write down the area they wanted to pursue and she promptly wrote "pediatrics". Following Medical School, she actually thought she wanted to focus on surgery and therefore completed a year long internship in General Surgery. Her first child was 6 months old and she just felt called back to pediatrics and following the internship began her Pediatrics residency.
Dr. Robertson and her husband Steve spend most of their time with the children and lead a pretty quiet, simple lifestyle.