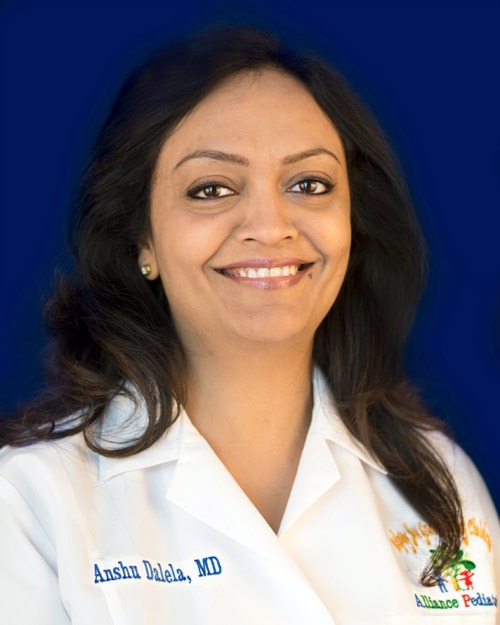 Dr. Anshu Dalela is now accepting new patients at both Woodland Springs and Heritage Trace locations.

Schedule a new patient (or existing) appointment by calling

(817) 741-5437

Existing patients can schedule an appointment on our Patient Portal
About Dr. Anshu Dalela
Dr. Dalela is a new Texas "transplant", and is Board certified by the American Board of Pediatrics.  She recently moved to Texas from Michigan, where she was working as a Senior Staff Pediatrician with the Henry Ford Health System.  Dr. Dalela completed her pediatric residency from Brookdale University Hospital Medical Centre, in New York, which is affiliated with SUNY Downstate.  As you can see, she brings lots of experience and knowledge to our practice!
She resides with her husband and two amazing children, both of which are boys. In her free time, Dr. Dalela can be found cooking, singing, attending to the many activities her sons' have, as well as spending time with her family.  They enjoy the outdoors and are learning to love the warm Texas weather.  Another passion that Dr. Dalela has is traveling and visiting new places…there's lots to see in Texas, so that will keep her busy for quite some time!
We are happy to have Dr. Dalela on our team and look forward to everyone getting the opportunity to meet her.